Legalsense offers the possibility to do billing in different currencies than your default currency (such as for example in USD when your default currency is EUR). We refer to this functionality as "multi-currency" (supporting multiple currencies).
Activating multi-currency in Legalsense
Please contact Legalsense support if you want us to activate this functionality. You will have to let us know what currencies you want to use in the software and with what denotation/symbol you want to display that currency on the invoices (and in the reports etc.). For example, for American dollars, you could choose 'USD' or the dollar sign ($). If you are using Legalsense integrated with specific accounting software, please keep in mind that perhaps the accounting software also needs to be set up for the different currencies.
N.B. Extra costs could apply to your account with Legalsense when activating this functionality.
Setting a different currency
You can only change the currency in Legalsense per client. All invoices for all matters for that client (regardless of who the debtor is) will be billed in the client currency. On the client detail page, you can see what currency is being used (see 'Pricing information' on a client detail page).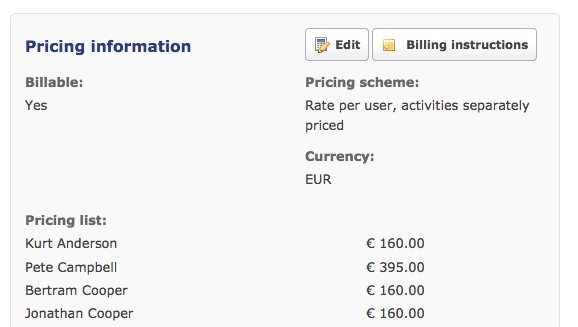 When you edit the client's pricing, there is a 'Currency' field available in which you can select a different currency.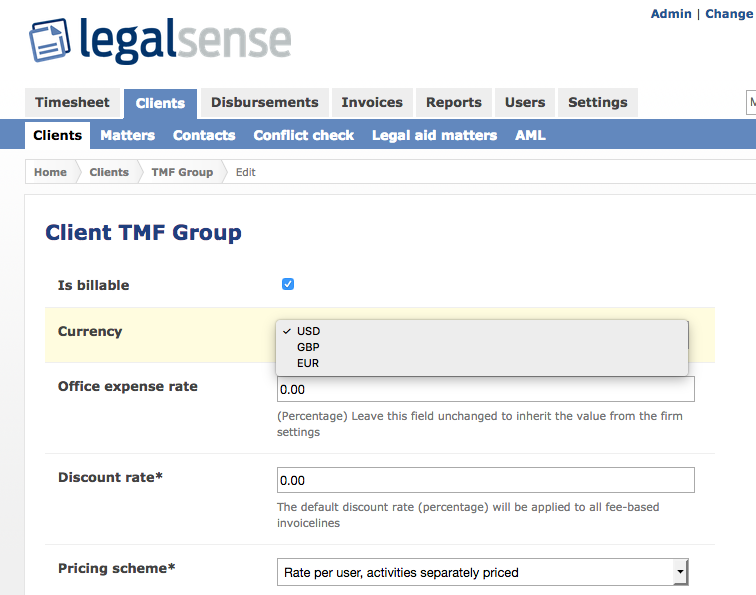 Please note that switching currencies on a client is not recommended. Preferably, you will set the currency on the client before you start billing and do not switch to a different currency anymore. If you have multiple matters for a client and these matters must be billed in multiple currencies we recommend creating multiple clients in Legalsense (e.g. a USD client and a GBP client). You can still change the debtor on those matters to point to the same debtor/client so that from an accounting perspective all invoices are billed to the same party.
Displaying currencies
In Legalsense the client detail page will display amounts in the client currency. On the matter pages and in the reporting module amounts are always displayed in the default currency of your Legalsense environment.
Rates
The rates that you can set for a client or matter are the rates that will be used when billing. So if the rate of a user is € 250 and you change the currency to USD then the rate will change into $ 250 and that will be used on an invoice. Legalsense will not automatically recalculate your default rates into the foreign currency. We do not think that is the right approach because that means you will end up with very strange non-rounded rates. Instead, we advise you to create different rate lists (price templates) for the foreign currencies you would like to use. You can add a price template at 'Settings - Lists - Price templates' and then choose the new price template for any client or matter for which you want to use the adjusted rates. It is recommended to add the currency to the name that you give the template. For example, you could add 'Default rates (USD)' as a price template. If you want to set specific rates on a client or matter, you can still manually set those when editing the pricing of the client or matter. Please be aware to add the rates in the currency that you have set for that client or underlying matter.
Managing exchange rates
Exchange rates can be managed in a central place by going to 'Settings - Billing - Exchange rates'.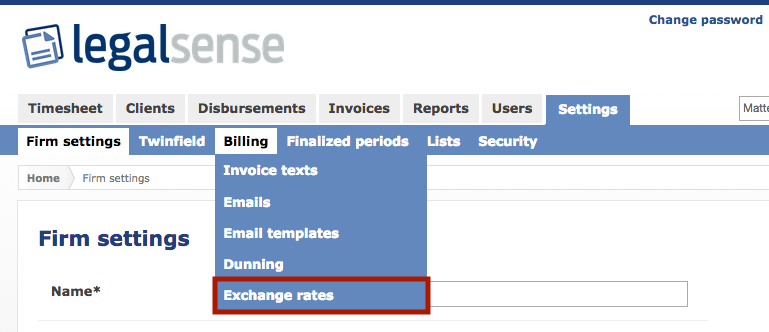 For every currency you use, you will find a list of exchange rates with a start date (in separate tabs). If you want to add a new exchange rate from a certain date, you can fill in the fields in the last empty row. After saving (press 'Submit') the changes, a new empty row will appear. If you want to delete an exchange rate, select the row(s) you want to delete with the checkbox(es) and press 'Submit'.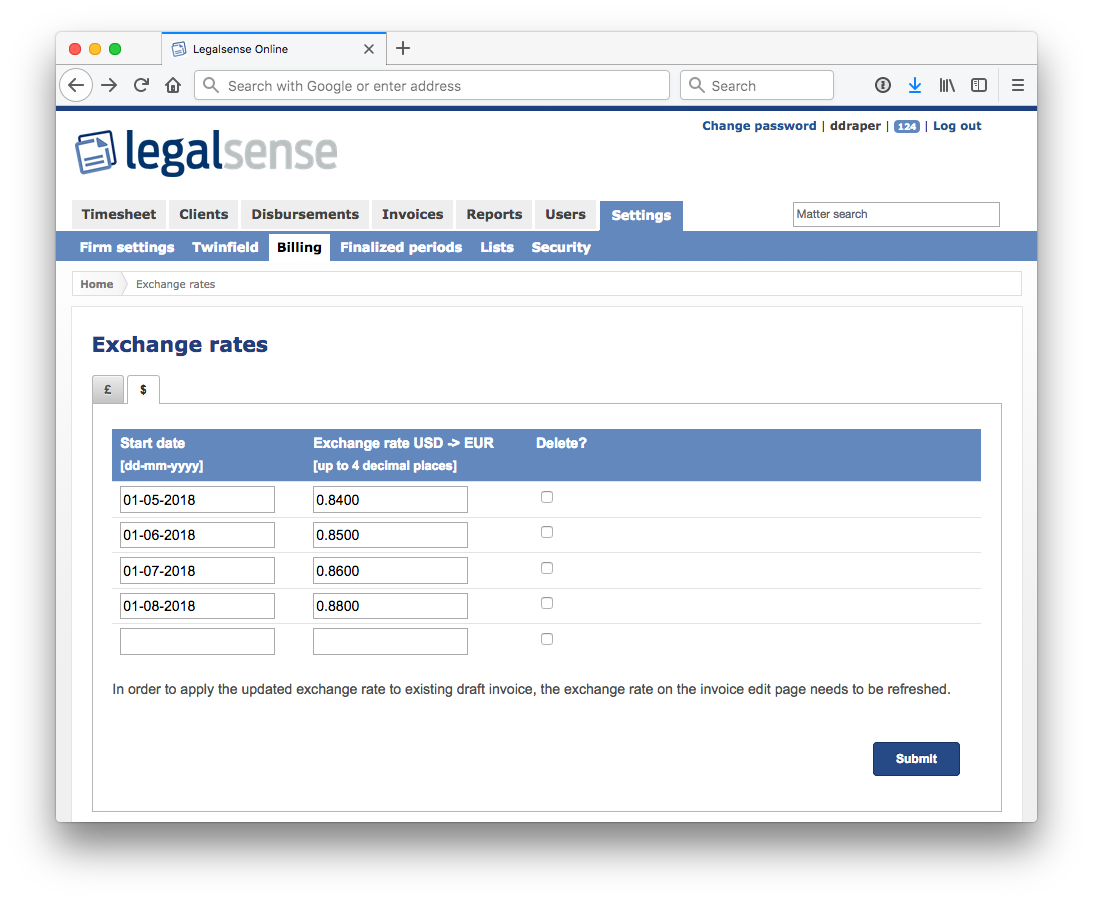 Billing in foreign currency
The billing in foreign (different) currencies does not differ from the regular - in your default currency - in Legalsense. The invoice will be drafted in the currency that has been set for the client related to the invoice and all amounts on the invoice will be in that currency. Legalsense uses the exchange rate to calculate the amounts of the invoice back to your default currency and to calculate the disbursement/expense amounts that are in your default expense currency to your invoice currency. For example, if you create an invoice in US dollars (USD) and on that invoice is a disbursement of EUR 500 then the disbursement amount will be calculated to USD based on the (inverted) exchange rate you provided. When viewing reports for this client, matter or invoice the revenue amounts will be displayed in your default currency (so calculated from USD to your default currency).
When creating a new invoice, the exchange rate that is active at that time will be used for that invoice. When editing the invoice, the exchange rate is displayed and you can refresh the used exchange rate if you have changed the rate on the centrally managed exchange rate management page (see above) by pressing the refresh/update icon.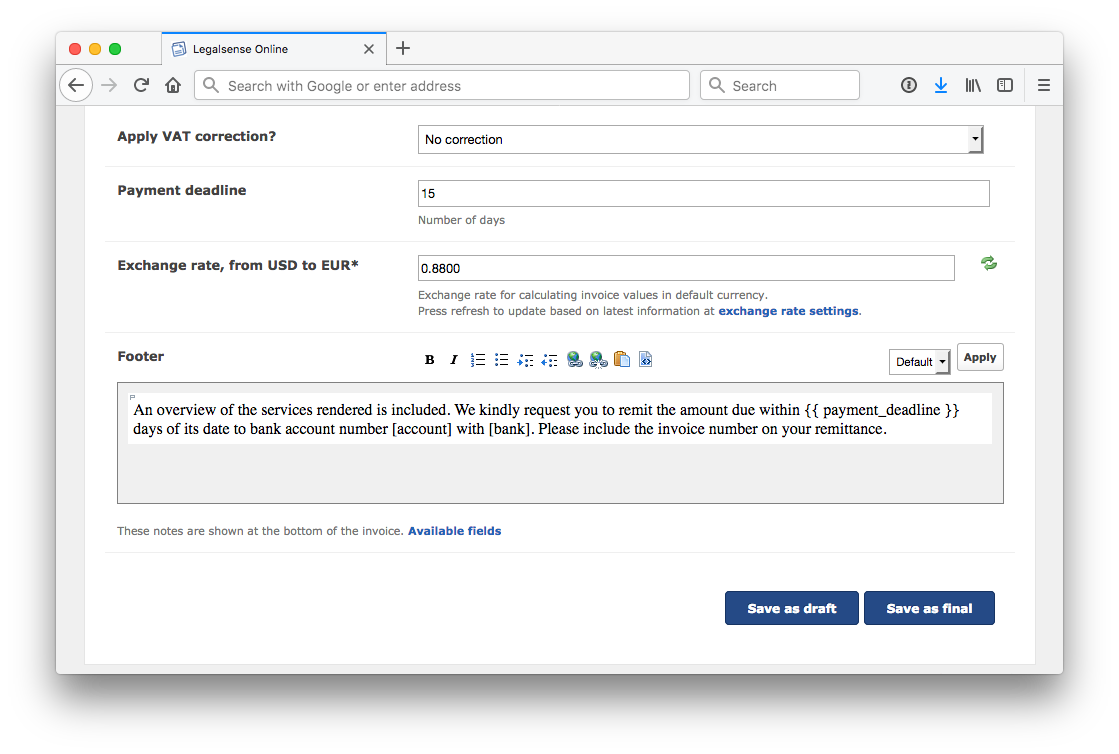 When viewing the invoice, there is extra exchange rate information available by clicking the information icon ("I") at the top.
Disbursements / expenses
If you receive a purchase invoice that you want to bill to your client/debtor as a disbursement or expense, Legalsense expects you to add this in your default expense currency. By default, your Legalsense environment will have its default expense currency set as equal to your default currency. For example, if you have EUR set as your default currency, then EUR will also be your default expense currency (for disbursements/expenses). If you receive a purchase invoice in a different (foreign) currency, Legalsense expects you to add this in your expense currency even if you are going to bill this as a disbursement in another (different) currency. When calculating the value (amount) of the disbursement that will be used on an invoice in a foreign currency, Legalsense will use the inverted exchange rate that you have set in the exchange rate management page (see above).