Clients in Legalsense are based on contacts. A contact can however also have an other role in Legalsense: debtor, counterparty, etc. A client is always based on one contact. A matter is always linked to one (main) client.
This article describes how to add and edit a Client.
Adding a Client
There are two ways of adding a new Client to Legalsense.
Add a new Client;
Add a new Client based on an existing Contact.
To add a client go to 'Clients' in the main menu and choose: 'New Client' and follow the steps. You will automatically add a new Contact as well, on which the new Client is based. However, you can also select the option 'From existing Contact'. You can use this option if the Contact is already in your database. After selecting the existing contact, by typing the contact name, the steps to create a new Client are equal to the 'New Client' option.

 After selecting the Contact, or directly after clicking the button 'new Cient', the below screen appears: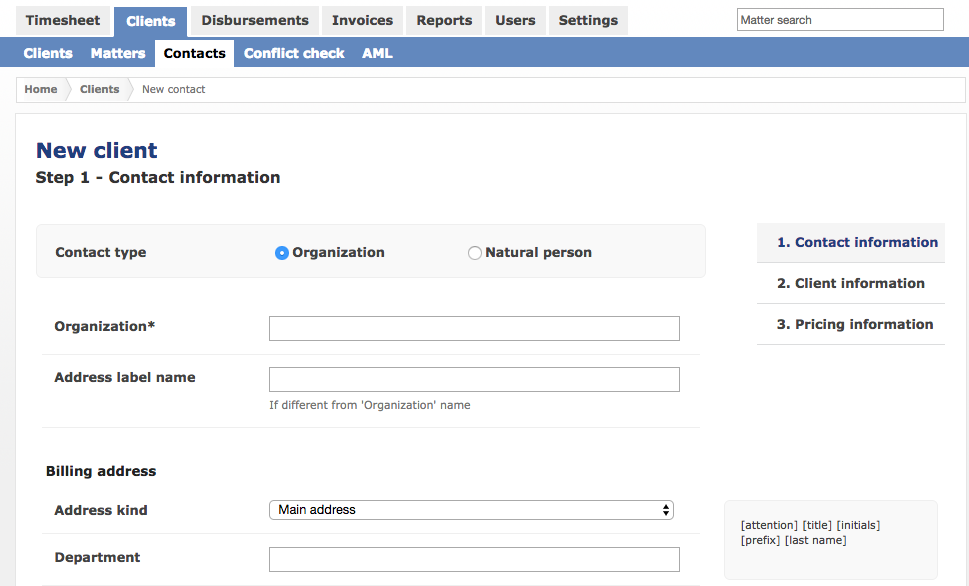 Fields marked with an * are required, so it is mandatory to fill in something. When you click 'Next' and you don't go to a next page, you probably missed such a required field.
We recommend that you fill in as much contact information as possible, as this helps you with a conflict check and when consulting debtor information at a later stage. 
When you finished filling the fields, click 'Next': 
The next page consists of Step 2 of the new Client. In this screen, relevant client information can be entered: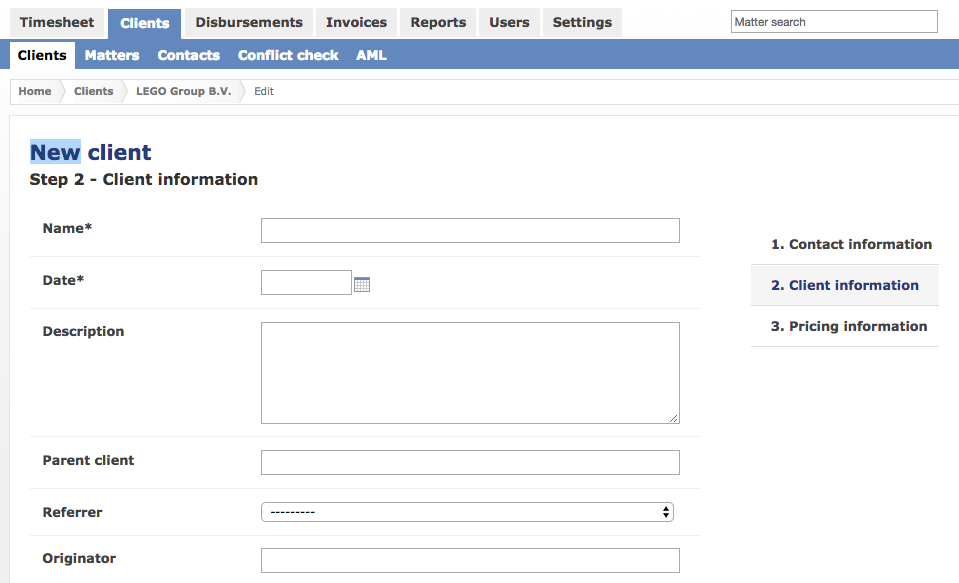 Again, fields marked with * are required. The date should be the date that the first work has been done for the client. 
When you finished filling the info, click 'Next':
You arrive at Step 3 which contains pricing information for the client: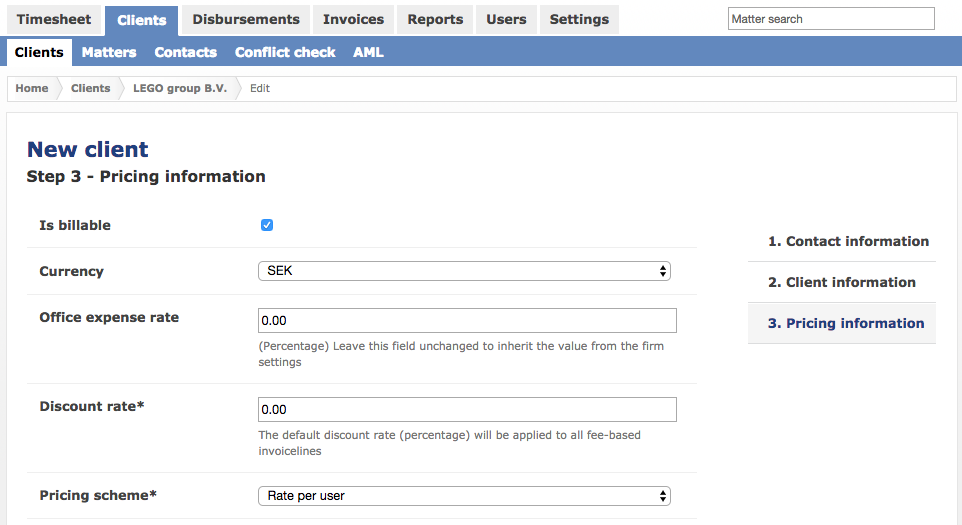 You can choose if this client is billable or not. The default is set to 'Is Billable'. If you uncheck 'Is Billable', the user will only see non-billable activities when writing time, and it will not be possible to create an invoice. This is meant to be used for internal (non-billable) clients and matters.
The Currency default is set to EUR, but you can change it here for this Client. You can only set a different currency, if 'multi-currency' is enabled in Legalsense.
You can change the Office Expenses for the client here. The default Office expense rate is set in Settings > Firm Settings. If you want the default to apply, do not fill in anything in the Office Expenses on the Client page. When you want to use a different office expenses rate for this Client, fill in the different percentage here. Please note that it is also possible to enter a different Office expense rate (and the other settings mentioned here) at the Matter level. 
The Pricing scheme defines how the hourly rate is calculated. The default value is 'Rate per User' in which Legalsense uses the hourly rate as set for each lawyer in the User list. To change this rate per lawyer for all clients, go to Users, then click on the username, then change the current rate. If you want to set a specific rate for this client, enter a rate in the list of names that appears below.
For more info on pricing schemes in Legalsense, please click here (in Dutch).
After filling in all information, you have 2 options:
You can save the new Client ('Save' )
or you can Save the Client and add a new Matter ( 'Save and New Matter' )
Save Client
You save the new Client in Legalsense.
Save and New Matter
This option also saves the new Client and continues with adding a new Matter for this client. Click here for more info on Matters (in Dutch).
Changing a Client
To change a Client, go to 'Clients' and select the client you want to edit: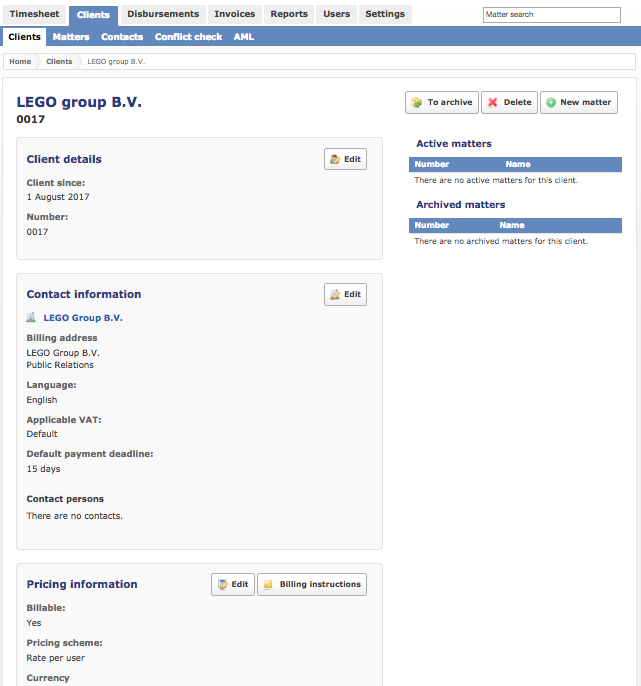 There are 3 parts of the Client that you can change: 
Client details;
Contact information;
Pricing information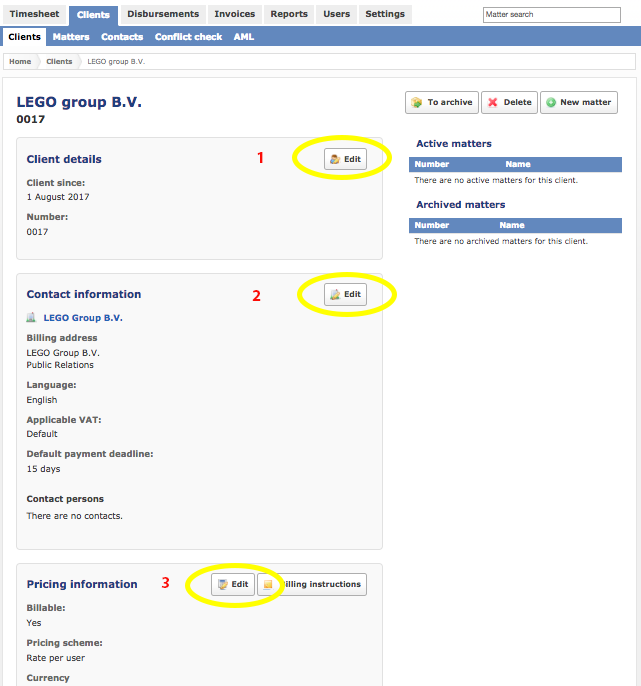 1 Cliënt details
Here you can change the Client details. When you click 'Edit' you open the page equal to step 2 of the process of adding a new client: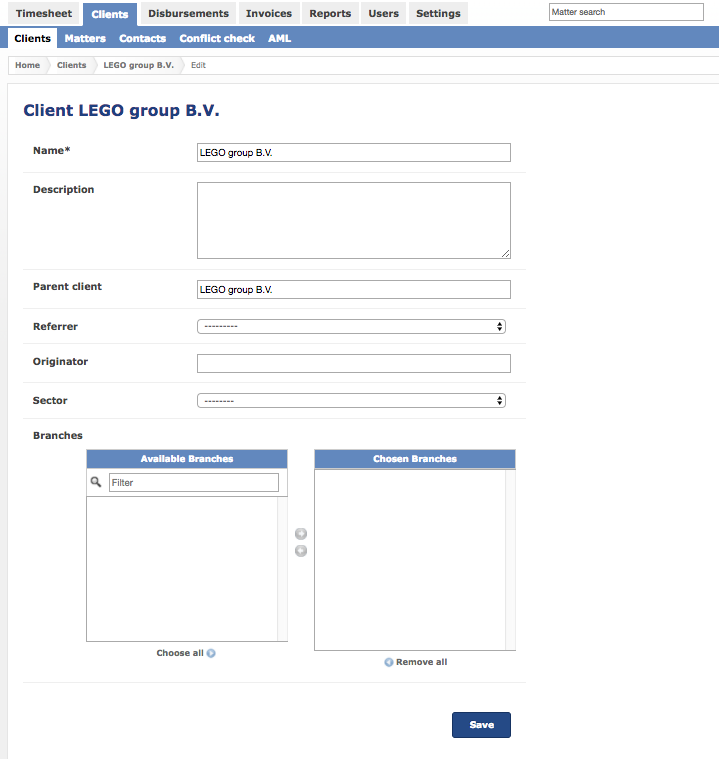 2 Contact information
This edit option opens Step 1 of adding a new client. Here you can change contact information: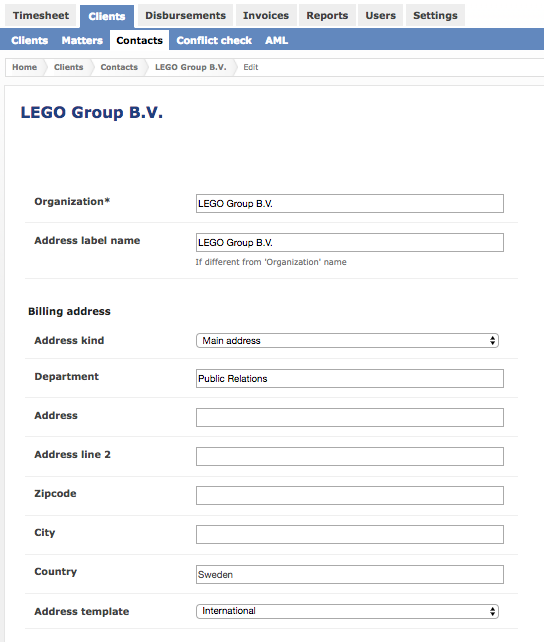 3 Pricing information
If you click 'Edit' here, you can change the pricing information (step 3 of adding a new client):