Travel expenses can be billed in two different ways within Legalsense.
1. In the menu 'Disbursements'
2. By adding a manual line on a draft invoice.


Menu Disbursements
Click on 'Disbursements' and then on 'New Disbursement.'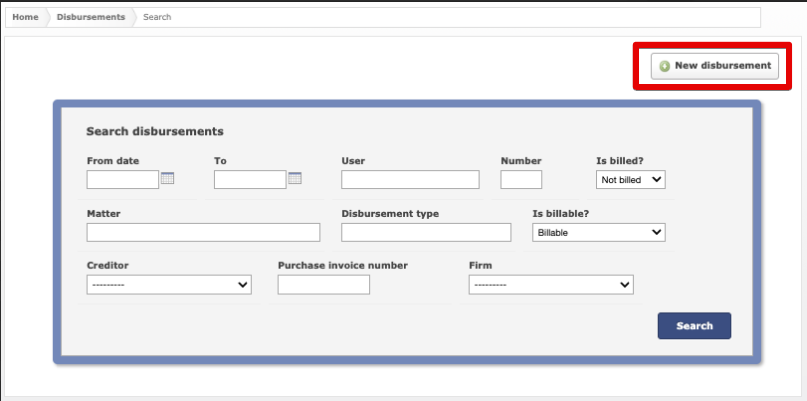 You will then see the following screen: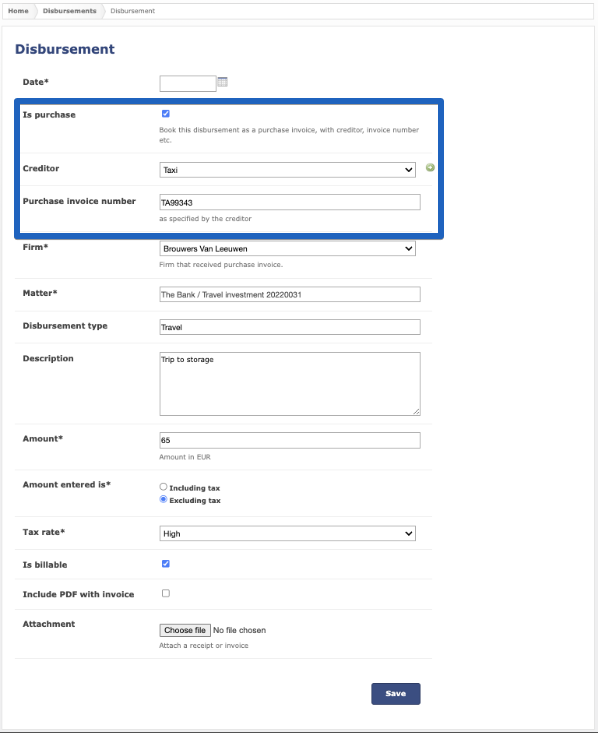 We will explain a few points:
Is Purchase: By checking this box, you can add the actual 'Creditor' and the 'Purchase Invoice Number' to the disbursement. If you do not want this disbursement to be booked as a purchase invoice, you can uncheck this box. In which case, you do not have to specify a creditor or an invoice number;
Matter*: Here, you enter the matter to which the disbursement should be charged;
Disbursement type: Here, you select the type of disbursement. In the example, the type chosen is 'Travel';
Description: This field can be used to add a description;
Amount*: The amount you want to book onto the matter. You enter a manual amount which you may have to calculate yourself;
Amount entered is*: Is the amount in or excluding tax? By default, the choice is 'Excluding tax';
Tax rate*: At what rate should the disbursement be charged?;
Is billable: is the disbursement billable or not? The default choice is 'Is billable.'
Include PDF with invoice: Tick this box if you would like to be able to attach the uploaded PDF to the concerned invoices.
Attachment: Click on the button 'Choose file' to be able to upload an attachment (original invoice or receipt) to the disbursement . This has to be a PDF file.
When you have filled out all fields, click on save. The disbursement is now held on the matter and available for billing.
Manually adding a line on an invoice
You create a draft invoice for the desired matter. Click on 'edit' and then click on 'Add line':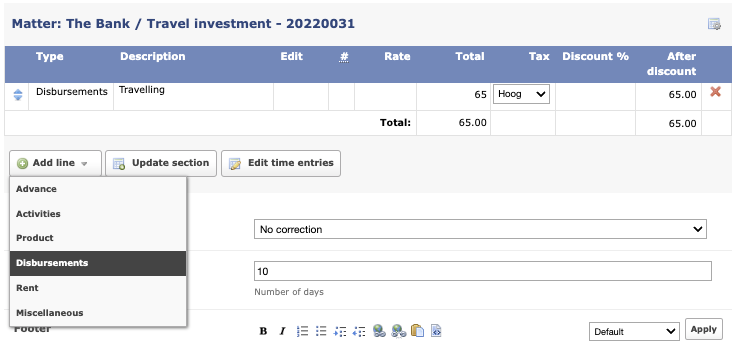 Then click on 'Disbursements.' You can manually add a disbursement and attach the desired description and amount to it. After clicking on 'Save draft' afterward, the disbursement will be added to the draft invoice.