When the list of Disbursements has been requested (found under Disbursements - Disbursements), the following text may be visible below the header Matter:
'Unprocessed remainder'

Why does this text appear?
This text appears because an invoice for a disbursement has been entered in Legalsense (either manually or via accounting synchronization) and the invoice amount has not been fully distributed as a disbursement.
If we open the disbursement from the example above, it has been processed as follows: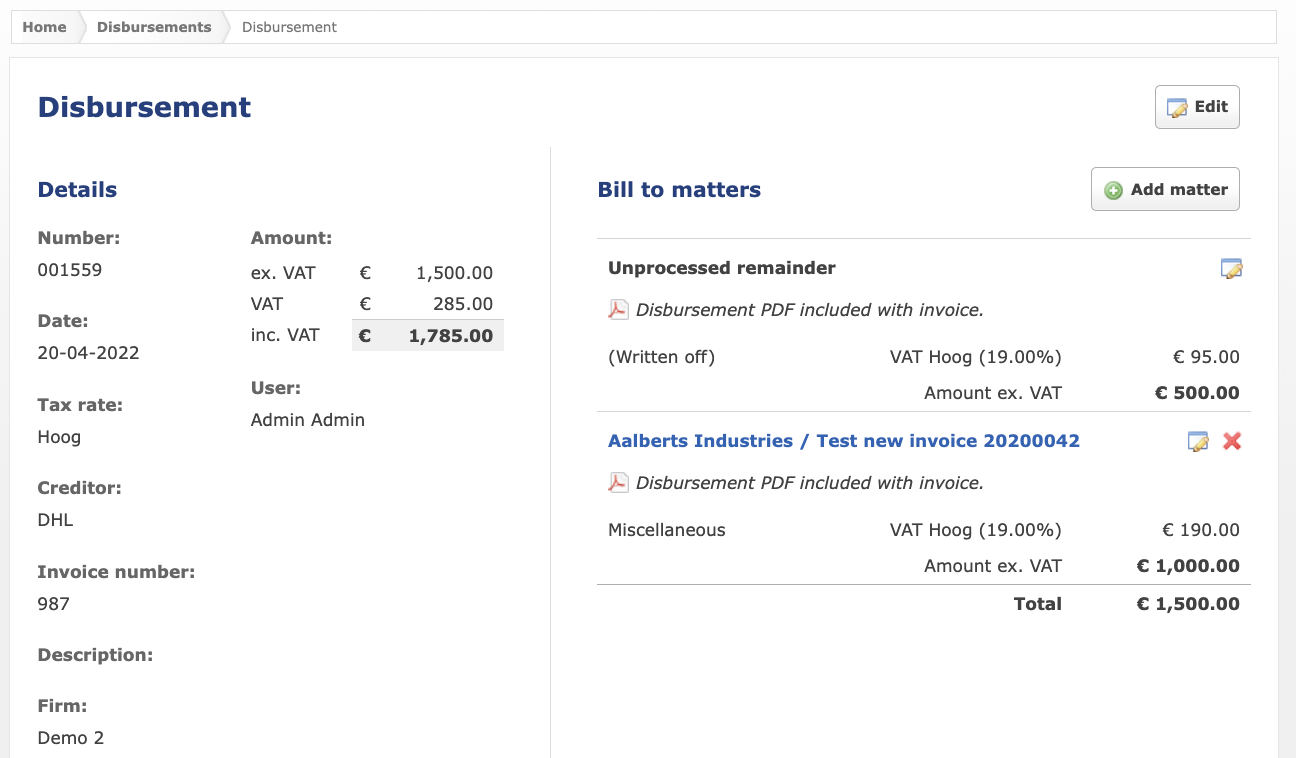 On the left side of the screen, the complete booking of the purchase invoice is visible. Here the following information is visible:
the number that Legalsense has assigned to the disbursement;
the amount of the purchase invoice;
the number of the external accounting application (not in this example, but if uploaded by an integrated accounting program like Twinfield/Exact Online/Fortnox);
user: the user who imported/created the disbursement);
date: the invoice date;
the tax rate;
the creditor;
te invoice number;
the description.
Because this invoice was not imported from synched accounting, additional information on that example is not visible.
The right side of the screen shows the booking lines of the purchase invoice. In the example above you can see that part of the total amount excluding VAT has been assigned to a matter as a disbursement, namely € 1000 ex VAT on matter Aalberts Industries / Test new invoice 20200042.
The remainder of the purchase invoice has not been processed as disbursement.
In order to still reconcile with the total invoice, the residual amount is accounted for as 'unprocessed remainder'.
The example above is based on an expense item manually added to Legalsense but the same applies to expenses synched by integrated accounting software.
The visible unprocessed remainders therefore concern all purchase invoice items that have not been linked to a matter as a disbursement but were included as an amount on a purchase invoice.
Contact
If you would like to receive more information on this topic, please do not hesitate to contact Legalsense support by email: support@legalsense.nl or by phone: 085-4013698.