In Legalsense it is possible to add custom invoice lines to an invoice. When a line of the type 'Miscellaneous' is added and the integration with an accounting program is used, a general ledger account can be selected which is used to book this invoice line (revenue) to.
In addition to these lines of the type Miscellaneous, you can also set up 'specific' extra lines to which a general ledger account number is assigned in advance. These lines can then be added as invoice lines to an invoice. This makes it easier to charge, for example, a fee for a course or the monthly rent to a subtenant of the office.
Adding an custom invoiceline type
Adding a invoiceline type is done via 'Settings' - 'Lists' - 'Custom invoiceline types'.

When you click on 'New custom invoiceline type' you can add a new type:

In this form you can enter a name for the languages that are active within your environment.
And if you have an active accounting integration in your Legalsense environment, the field for 'Ledger Account' is also available to indicate how the entry of this type should take place, see below: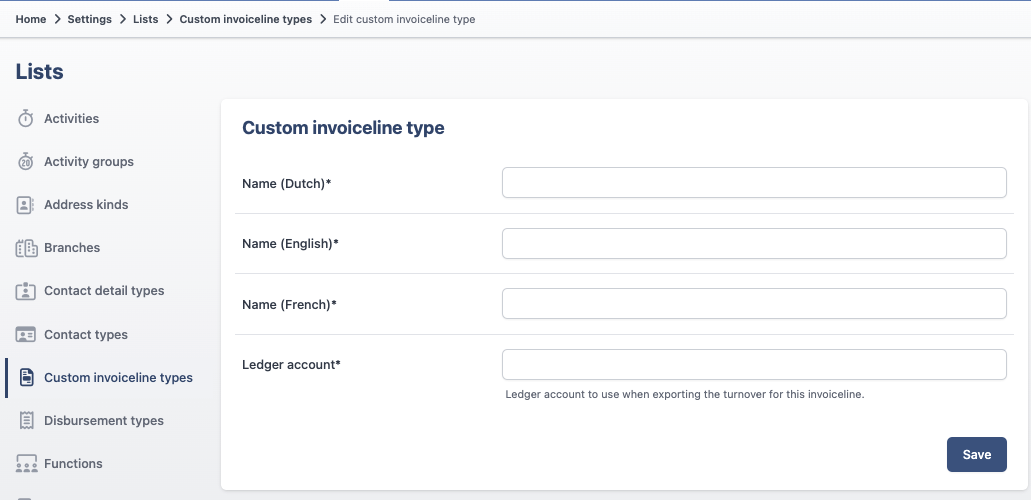 Using an Custom invoiceline type
If the invoiceline type has been created, then it can be used on an invoice.
Choose 'Add line' on a draft invoice (this can also be an 'Empty' invoice):

You can now select the created invoiceline type (in this example 'Rent') and assign an amount to it in the 'Total' column: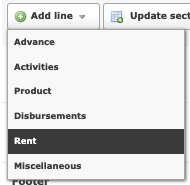 You have added another (revenue) line with the description 'Rent' to the corresponding invoice. If a specific ledger account number is specified for this invoice line type, then in this example an entry will be sent to the accounting application with an amount of € 1000 for the ledger account number linked to the invoice line type.