Legalsense offers an iPhone (iOS) app that focuses on writing time. The app can be downloaded free of charge from the Apple App Store (iPhone).
Login
After opening the app, you can log in with the same URL and credentials that you use to log into your office environment.
For example, at "Company name" you enter: yourfirm.legalsense.nl
When the two-factor authentication (2FA) is active in your Legalsense environment, you will also be asked to enter the token code when you log into the app.
Your login session will stay active in the app, unless you logout, so you do not need to log in every time you open the app.

After you login in, the following screen will appear: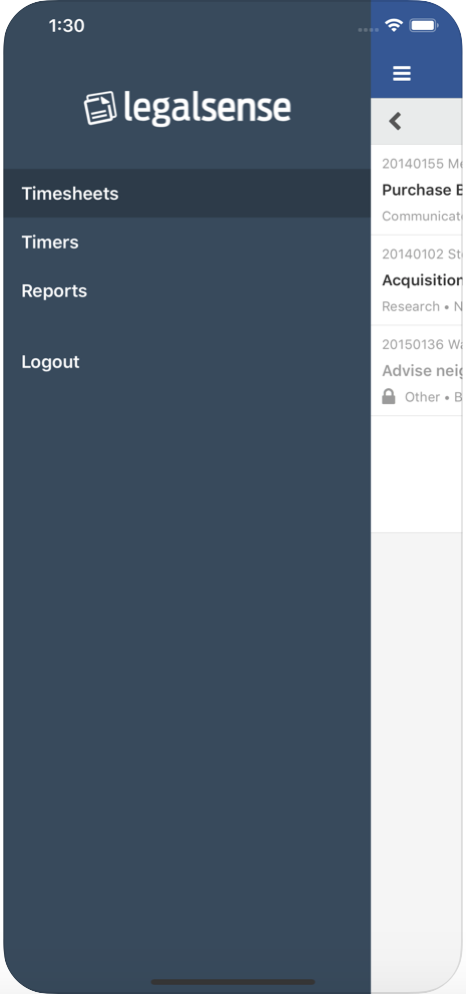 You can choose to enter time entries using Timesheets or Timers.
View, change and add time entries
Timesheets:
If you have already written time, you will see the relevant time entries (per day).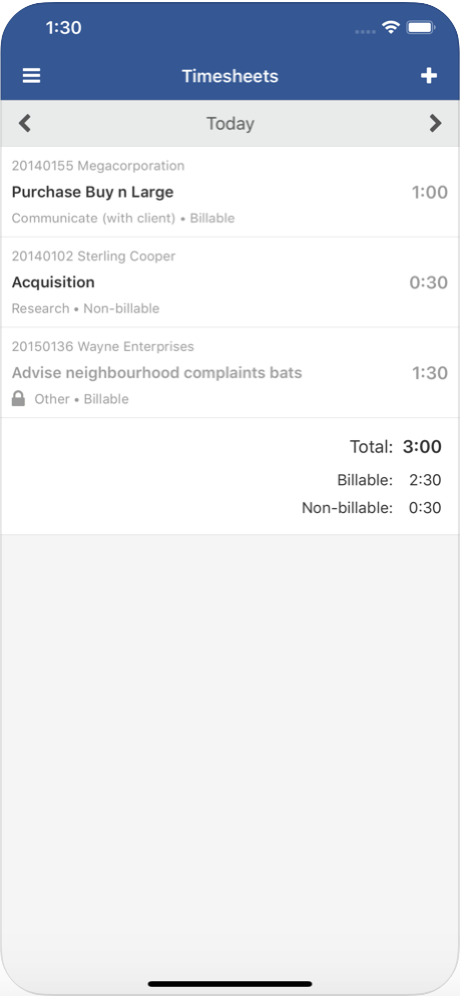 Click on the '+' icon to add a new time entry. After entering the time, choosing a matter, an activity (if applicable) and an optional description, click on 'Done'. The time entry is saved in your Legalsense environment.
To change written time entries, find the time entry to be changed and open it for editing by clicking on the appropriate time entry. In the edit screen ('Edit time entry') you can change the time entry and save the changes by clicking on 'Update'.
Timers:

Click on the '+' icon to activate a new timer. After selecting the matter, the activity and method of charging (Billable, Written off or Zero rate), click on 'Done'. The timer is now ready to be activated.

If you want to stop the timer and save the time entry, click on the activity in bold. In the screen that appears, you can stop, restart or delete the timer. When you choose 'Save in Timesheet', the time entry is saved and the measured time is rounded based on the time setting that applies in your administration.